CHIA HUNG ENTERPRISE CO., LTD.
Since the establishment in 1985, CHIA HUNG ENTERPRISE CO., LTD. has specialized in manufacturing various types of freezing and food machinery. Except above-said products, the company also develops slush machines, rainbow slush machines, ice cream making machines, rainbow ice cream makers, calamondin squeezers, semi-automatic and fully automatic orange squeezers, commercial fruit and vegetable blenders, etc.
The products, exported to USA, Japan, Malaysia, China, and other Asian countries, win the identification and praise of customers there. In Taiwan, they are sold to supermarkets of farmers' associations, international airline, fruit markets, wine shops, restaurants, other food markets, and everywhere.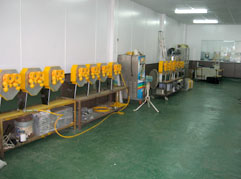 Business Concept :
The company in the coming days. Will not be the development and research of more advanced. Practical. Frozen. Catering equipment. Thank all dealers. Customers. Farmers support and recognition. Give me the company the opportunity to help the public service.
※The honors are quality, service and innovation winning customers acceptance and applause.
Exhibit Photos :